The Kontrol S4 MK2 is by far the best DJ controller I use. It's fast and intuitive and lets me play around without a lot of work. The one issue I face while doing prep mixes is that it's cumbersome to add my first beat grid marker and fix autogain - particularly while I'm mixing (and recording) live. These settings traditionally require jumping to my trackpad to change UI views and make adjustments.
To make that easier, I've created a custom mapping for my S4 MK2 to allow me to:
zoom in and out of the waveform
add beat grid marker and cue #4 with one click
delete grid marker(s)
adjust autogain
Here's the knobs and buttons on the S4 MK2 I remapped: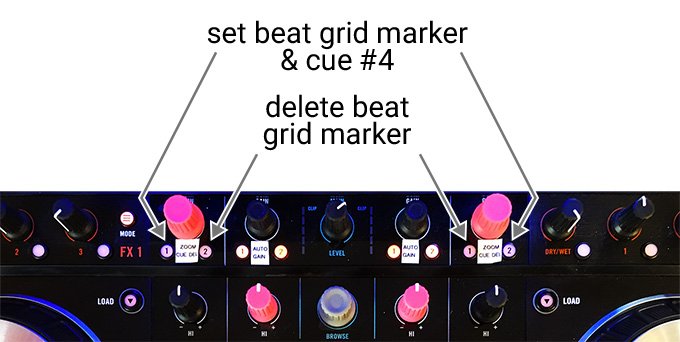 As you can see, I overrode the gain knobs on all four decks as well as the FX assign buttons on decks C & D. I chose these because I rarely use decks C & D and I never use gain knobs - I prefer my tracks are properly autogained during my prep mixes.
Why These Settings
This mapping makes it quicker and easier to prep tracks while mixing. It's not for everyone - it works best for DJs who tend to play a lot of new tracks and spend a lot of time prepping them.Most of these settings normally require using your trackpad or mouse to change views or make adjustments. These settings remove that need.
Here's what they do:
Waveform zoom in/out: instead of clicking the up & down arrows you can use a knob. This makes is really easy to zoom in to place beat grid markers in the right spot quickly and then zoom back out to so you can look ahead. Even if you're not doing prep mixes, this is a great knob to have handy.
Autogain: if you have your tracks properly autogained, then there's no reason to use the gain knobs - they're redundant. More critical, Traktor is really sloppy about setting autogain values during track inspection - the app only looks at the first 15 seconds of the track to estimate volume! So tracks with a quiet opening tend to get overblown when the beat comes in.
Set beat grid marker & cue #4: this is a critical two-for-one button that lets you set your beat grid and assign a cue point at that spot with one tap. Don't forget to zoom into the start of the wave to get the correct spot. What's nice about this combo is you don't have to switch your deck view to Grid settings - you can leave the Cue view open so you can quickly get to cues 5-8.
Delete beat grid marker: sometimes your first beat marker will be slightly off and out of phase. Other times you may have marked the wrong beat so everything's in sync but awkwardly off by one or more beats. It happens. This button lets you delete the grid marker (without using your mouse). What about deleting cue #4? You could already do that: just shift-click Cue 4 on your S4 ;-)
How to Install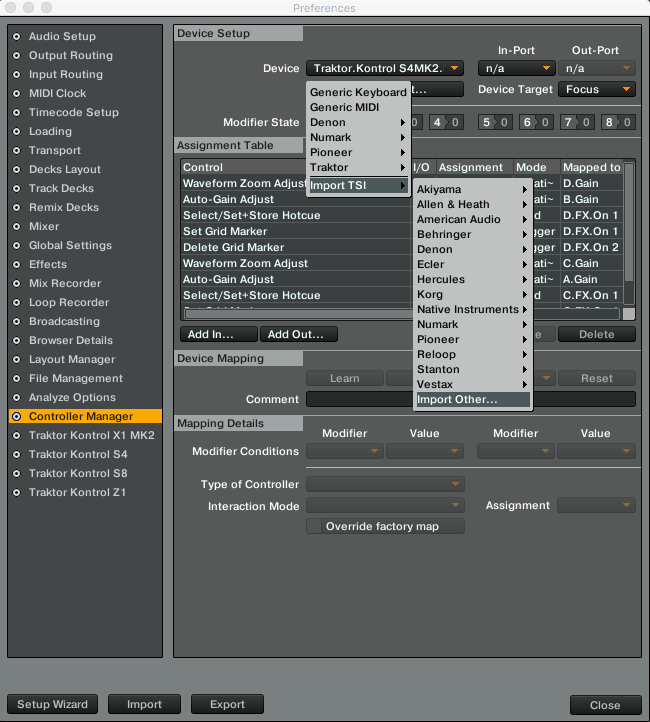 open Traktor Preferences
select Controller Manager in the left menu
in the top section Device Setup click "Add..."
navigate through the menu: Import TSI > Import Other...
select the .tsi file
(note: be sure you've selected the correct control map in the Device drop menu)
That's it. I haven't made any custom stickers for this - just make your own and try it out.
Does this work on the older S4? I doubt it.
Have fun!