There's a few apps DJs can use for organizing tracks. Traktor's collections view now allows DJs to sort by key, while Mixed in Key recently added energy level to their player. But the common denominator, the one everyone uses (at least on Mac) is also the most versatile: old iTunes 10.
I go through a lot of music each month and it's a lot of work to keep my library organized and readily available.This post is all about how I keep everything organized in iTunes for DJing.
[Update: iTunes 12 gave us back the views we needed to be able to manage playlists. It's still pretty obnoxious, but at least it's usable.]
Overview
Use iTunes 10 (since iTunes 11 removed essential organization features)
Playlist Views:

Song list w/ coverflow for playlists
Album list for albums
Always use these columns: Name, Artist, Time, BPM, Comments, Genre, Rating
Playlist Folders:

"DJ • Charts" (Beatport top ten charts)
"DJ • Sessions" (mix sessions)
"DJ •• Tools" (tool tracks)
"DJ ••• Sources" (purchases and downloads)
Mixes
iTunes 10 (not 11)
iTunes 11 eliminated many useful organizational features that have been in iTunes for years, including multiple playlist-based views and the infamous coverflow album view. The v11 update focusses almost exclusively on organizing albums which makes sense for consumers, but is terrible for DJs who mostly deal with singles.
If you made the mistake of upgrading to iTunes 11, you can still downgrade to iTunes 10. You have to jump through a few hoops but it's worth it -- and you may not be able to downgrade later on.
Playlist Views
I use two main playlist views throughout iTunes. It helps to set the top Music section to the format you want to use so you don't have to customize each time. I make a lot of playlists so it saves me time.
My usual playlist view is Song List w/ Coverflow:
I don't remember most track names so coverflow makes it much easier to recognize a track. Most of the time I'm sorting music based on BPM, genre, rating, or key (i.e. in comments). I use the following column headers, in this order:
Name | Artist | Time | BPM | Comments | Genre | Rating
When I'm working with playlists I'm always sorting by BPM, key, genre, or rating so it's best to keep them together. It's too easy to accidentally click and change Ratings, so I keep it out of the way on the end.
For albums & compilations, it's pretty much the same thing, except I use an Album list view, sorted as Album by TItle. This way I get a small view of the album and reduce some of the excel clutter.
Playlist Folders
I use a TON of playlist folders. It's the most efficient way of being able to show / hide and jump around large groups of content at a time. Traktor also recognizes folders so they're safe to use.
I name the top level folders "DJ" plus dots plus Name to force a particular, non-alphabetical hierarchy. Lower level folders are organized specific to each use type.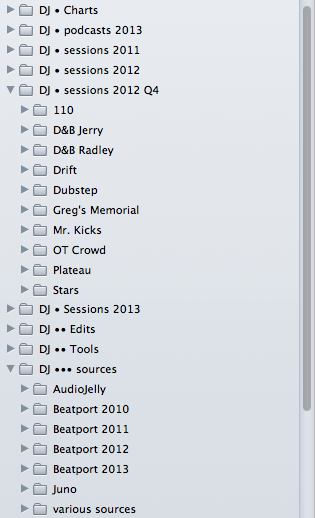 DJ Sources
Everything I add to my library starts here. I find keeping a section just for newly added music makes it really easy to find the music I want to play most - which is almost always the new stuff - and I'll often play right out of these playlists.
I have two primary folders: Beatport and Various Sources, within each are annual folders (Beatport 2010, Beatport 2011, etc).
Playlists are broken up based on how much and how often I add new stuff. I get a lot of music from Beatport so I make a new playlist for each purchase. I  don't usually mix tracks from albums & compilations so I'll put those in a separate playlist. I also name my playlist year/month using two-digit months so they stay in order: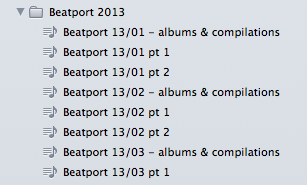 I don't get much music from blogs or Soundcloud so Various Sources playlists are only added every quarter-year.
DJ Sessions
These is where I keep all of my organized DJ playlists, smart playlists, and mix sessions and acts as my workspace. Every time I want to make a new mix or just throw tracks together I'll do it in here.
Yearly sessions are top level folders. Each time I start a new mix session, I'll make a new folder and give it a name. I'll add new playlists as I filter down the session to what I want:
In this case "Stars - everything"  (or "sources") is the big dump. Everything and anything I think I'll want gets tossed in here first. It'll be a huge playlist, but it makes it easy to have everything close. I'll usually go through the most recent purchases and grab everything based on genres I want to use.
Filtered is where I start to pick out what I think I want to use. Sometimes I'll grab too much and need to do another pass and make another filtered playlists (i.e. filtered 2). Even after filtering a couple of times I may have too many tracks, so I start working in the other direction by adding tracks to a Must Haves playlist.
An important thing to keep in mind is tempo. In most cases, your filtered playlist tracks will have similar tempos. If you have a lot of tempo variance (i.e Dubstep & Drumstep) it's probably good to make filtered playlists for tempo ranges as well.
At this point i'll start putting the mix together. Since everything is around the same tempo, I can focus on selecting tracks based on key & rating. Using this approach makes it really easy to plan harmonic mixes. I'll keep making new mixes until I have exactly what I want, which I'll then mark as FINAL. If I decide to do a lossless version of the mix, I can keep the here as well.
DJ Charts & Tools
These are minor sections but they're both best kept at the top level. Charts are where I can keep track of my Beatport Top Ten charts. It's dumb, but it does help me avoid duplicates and make best of the year charts easier. DJ Tools contains playlists for crossover tracks (i.e. go from dubstep to electro), DJ tools (acapellas), and sound fx.
DJ Mixes
I don't keep mixes together with my DJ content, mostly because I was organizing DJ mixes long before I started DJing digitally. I have a pretty large collection of other DJ's mixes as well as my own, and keep them separated. Other DJ mixes are organized by year (& quarter) or by source, while my own mixes are separated into raw mixes and released mixes:
Mix Sets - 2012
Mix Sets - 2013
Mix CDs
My Mixes - raw
My Mixes - released
So that's it. It's pretty simple - I just used a lot of words to for the stuff that's not so obvious. Of course you're free to do it however you want, this is just what works for me =)